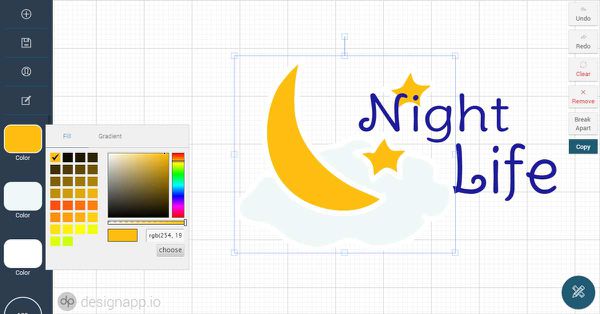 This week marks the inauguration of new section on What's With?! Since we're flooded with apps of all sorts (almost 1.5 million apps in Google Play as of mid-January 2015), any additional source of info on what trendy, fun, interesting and useful apps are there is a blessing from the sky.
Kicking-off with DesignApp (full name in Google Play: DesignApp Graphic Design), a sleek canvas for your imagination to run wild while drawing a logo, banner or icon you need. It serves the needs of people not familiar with high-end design or programming in order to work with specific programs in that area, while not rebating over quality and simplicity of use - it kind of reminds me of Canva, of which I am a big fan since I am using it to design content for social media accounts of one of my current projects; what DesignApp has as a big plus is integration with all platforms, being available both on desktop and on mobile (Android/iOS).
I described it at the beginning as being "sleek" - you are provided with an empty, checkered grid canvas, coming in several sizes (full page, A4, A5 and the likes). There are two types of elements you can add to your design, either elements (such as icons/shapes or text) or ready-made logos which you can then customize; there's also an option to import .svg directly from your computer or mobile device to work with.
There are scores of elements to choose from, organised in categories for ease of use - I even found the "Law & Legal" category; so yes, lawyers and design, we do have something in common! - and, at least for the elements I ran across, they are all free to use and some are imported from a library of free vectors at RoundIcons. Once an element is added, you may customize each color represented on it and its size. Then, add some text to it if you may, using one of the 500+ Google fonts available, and customize its color, opacity, stroke - it has neat crosshair-type of orientation for all your elements, so you can see that everything is aligned as needed. Unfortunately, at the moment you cannot alter the orientation or curl the text, but nonetheless it something worth doing and do-able in no time. Finally, you can also free draw on the canvas using the pencil tool.
If you feel uninspired, you can also pre-load one of the already ready-made logos available in DesignApp's library and work on them, most of which are free; there are some more specific designs that can be yours for $29.99, and this seems to be the only income avenue for the developer at this time. On mobile, it seems most friendly and easy-to-use on a tablet - careful if you have a mobile phone with a screen too small, since it makes working in the app a little more difficult. Once you're done with the app, you can save it, share it and send it to your e-mail for later use. If you want all your logos in one place, saved in your DesignApp account, just login with Facebook, Twitter or via an e-mail account, and all your work goes in one place.
It allowed me - on a Saturday early morning! - to create the following logo in under 5 minutes:
Overall, DesignApp serves its purpose right, by enabling your average Joe to create a logo in minutes, without any additional skills required (not even imagination, since you can choose from pre-defined logos). Their main plus compared to the likes of Canva, for example, is their availability on mobile and their sleekness in use. The app currently has 10.000+ downloads in Google Play, with an average vote of 3.9, and the team behind it has been working on it for about one year - the results is pretty neat, so we'll see where this is heading in the long-term.
For idea novelty, I give them 3/5.
For design, I give them 5/5.
For user experience, I give them 4/5.
For potential to scale, I give them 3/5
OVERALL: 3.75 - in Google Play scale, that allows me to give them a 4/5 rating. Keen on seeing what you do next, guys.