Tinder has not only revolutionized the way people engage with potential dates or generated industry-wide lawsuits - it has also brought to the forefront a technique of using apps by swiping left and right looking for potential matches of any kind. This also means a very simple way to let people exchange anything they would want AND find appropriate things they would need at the same time. And win-win situations for users are extremely rare - then worth capitalizing on.
Clothes exchanges have been going on between high-school girlfriends since forever, and smartphones have aided in simplifying this process, with Swapr being one of the first start-ups tackling this area. Now, Bournemouth, UK-based Skwag takes a stance regarding one particular wearable and singling it out: shoes.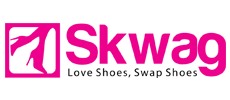 Skwag is a work-in-progress free iOS app, dedicated to showing off and swapping personal shoe collections. You just snap a photo of your swappable shoes, insert some relevant details about them such as size, type of shoe and optional messages for the potential swapper, and then send them to the marketplace gallery for others to browse. If another user loves your pair of shoes, you get alerted by their interest. If a mutual liking takes place, then users are alerted that an exchange is possible.
Skwag matches its potential shoe swappers based on their location, and founder Oliver Cross believes that the app will allow people to have access to shoes they might not otherwise afford. If you want to get your hands on a new pair of boots, then register on Skwag's website and get notified when the app will be up in App Store.