Reddit is a big source of trending geeky stuff and quality content that the entire community ends up enjoying. Last week, user @Dani_Kog took the platform by storm with an extremely useful and neatly created comparison chart for the best known game engines, with a specific approach on audio capabilities.
Before going in depth into this beauty for hardware people, let's talk a little about game engines and the need to have proper audio for it. A game engine is the software needed to create and develop video games - they are used on all varieties of platforms and normally include a graphics rendering engine, scripting, animation and many more, including audio capabilities. Game engines grew to popularity along with the first-person shooters of the '90s (i.e. Doom, Quake, Unreal Tournament), creating a possibility for any game developer to implement core functionalities, only to add various customizable game assets.
What makes a game worthwhile is largely attributed to gameplay - which is what makes the gamer keep on coming back to a game -, and this includes audio, soundtracks and special effects. At the moment, best capabilities from an audio point of view come from several game engines, used and re-used in various games.
Frostbite has awesome visuals and average sound, CryEngine allows precise crafting through its PixelAccurate Displacement Mapping, Source is more oriented towards hardcore producers, Unity makes it possible to port games on various platforms...how the hell should you know what to choose, especially if you're an indie producer only starting on this game development road?
This is where Dani Kogan, a technical audio designer and game developer based in Canada, decided that it was time to create a simple, comprehensive, actionable chart comparing a plethora of capabilities (or lack thereof) for, at first, six of the most known game engines. The result looks something like this and you should definitely check it out if you're familiar with game producing.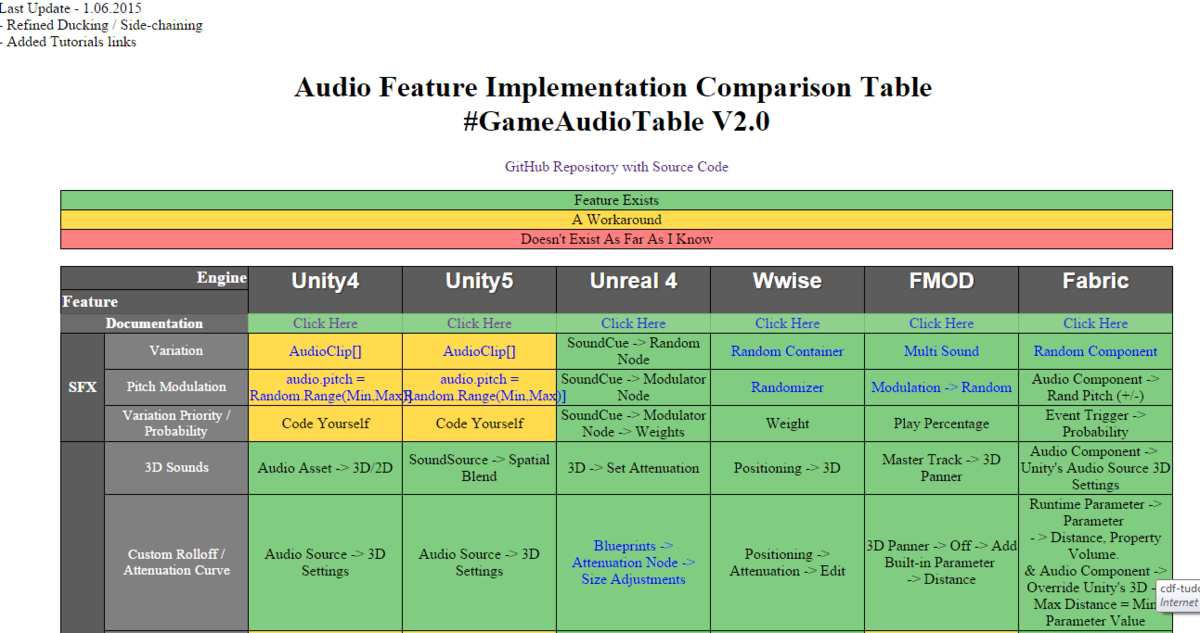 Small aggregators of various technical information scattered around the web - that would be something. Screenshot from Dani Kogan's project
The chart comes packed with a repository of the source code used (the project was made using Excel, CSS and HTML, so nothing too complicated here), as well as a downloadable test application to run and check all those capabilities. Any contributors are welcome, and people in the Reddit feed have also raised interesting questions as to various information contained. Hopefully, we'll see some more useful charts for various other needed technical components, even more consumer-oriented.
(P) signals an advertorial ordered for What's With?! If you want to get featured on our blog, contact us via Fiverr