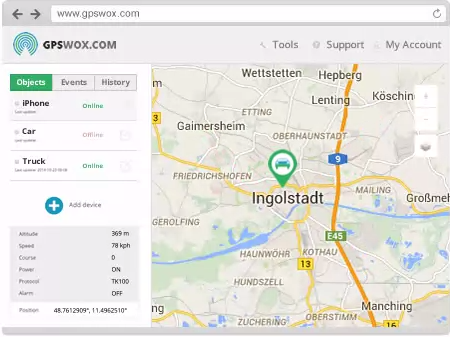 People in the developed world are becoming owners on a large scale of devices capable to track geo-location by using GPS technology. Such capabilities have empowered individuals to keep track of valuable items loved ones while being remote. Whether it's your child, pet or bike, GPS-enhanced devices attached or carrier by the above allow you to monitor their current location at your discretion and comfort.
The trouble is that managing all these devices can prove to be really strenous if you do not have a command center to organise and track them. Bear in mind that, the device factory software is usually poorly created and does not leave room for many implementations around it. Luckily, a new tool called GPSWOX does just that, allowing GPS tracking and managing of an unlimited number of objects online in real time.
In order to achieve this, GPSWOX uses powerful GPS server features including alerts, reports, sensors, and it supports more than 300 trackers and mobile apps, as well as multiple languages. Customer support also is a strong point, with the team behind the service guaranteeing 24/7 worldwide technical support. At the moment, GPSWOX has enrolled more than 10,000 global customers that use it to track about a quarter million units/devices.
With GPSWOX, you can view location of objects in real time on maps of your choice, on your smartphone or computer, as well as more detailed information such as exact address, travelling speed or petrol consumption. GPSWOX is significantly customisable, since you are able to get instant alerts over pre-defined events, such as speeding, theft, stopovers and even engine on/off status. This won't affect your data plan as you may receive these alerts over SMS. And when we said that GPSWOX works in real-time, we meant it: you can even verify any potential fuel savings on your vehicle fleet that may accrue by seeing tank fuel level, fuel consumption and style of driving while the vehicles are on the move. Finally, GPSWox also allows geo-fencing (the ability to create boundaries around areas of interest and see whenever a monitored device enters that area) and setting points of interest such as gas stations, restaurants or other check-in points.
Various pricing plans are available, with the free version including basic real-time tracking and mobile version capabilities. Corporate environments can enroll for unlimited device tracking starting at $99 per month, and this plan includes access to information on fuel savings, geofencing, accessories and sensors (such as drivers identification, camera, microphone and many more).
GPSWOX hopes to get ahead of the pack with the entire array of features it offers. I found it most interesting and valuable that GPSWOX basically will have a lot of information on socio-economic aspects such as frequency of gas filling in various regions, or bike theft percentages. This can say a lot of the habits and the economies of communities and companies, and the insight gained by GPSWOX could be invaluable for various stakeholders.
Editor's Note: This is a promoted post - if you want to be mentioned on What's With?!, contact us via Fiverr, using the button on the right-hand side of the website.